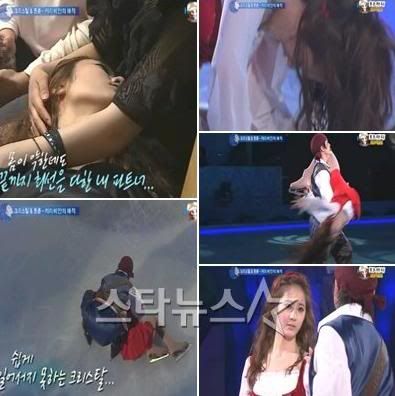 Krystal f(x) tidak bisa berdiri setelah penampilannya di SBS's Kiss and Cry karena dia tiba-tiba pusing.
Pada episode yang ditayangkan pada tanggal 31, Krystal menampilkan Pirates of the Carribbeandengan partnernya Dong Hoon.
Krystal tidak bisa pergi ke zona Kiss and Cry, jadi hanya partnernya, Dong Hoon yang pergi.
Dong Hoon menyatakan, "Aku pikir dia banyak kehilangan energi karena aku membuat kesalahan saat melompat, aku benar-benar minta maaf."
Krystal menjelaskan, "Aku tidak tau kondisiku akan seperti ini, jadi aku tidak makan apapun. Setelah tampil, aku tidak bisa berdiri karena aku sangat pusing." dalam sebuah wawancara dengan crew production.
Krystal menambahkan, "Aku akan makan teratur, dan akan bekerja keras untuk menunjukkan penampilan yang lebih baik."
Source: Starnews
Credit : Korea.com
Via : Dkpopnews
Ind Trans : Tsatsasoeun@asianfansclub